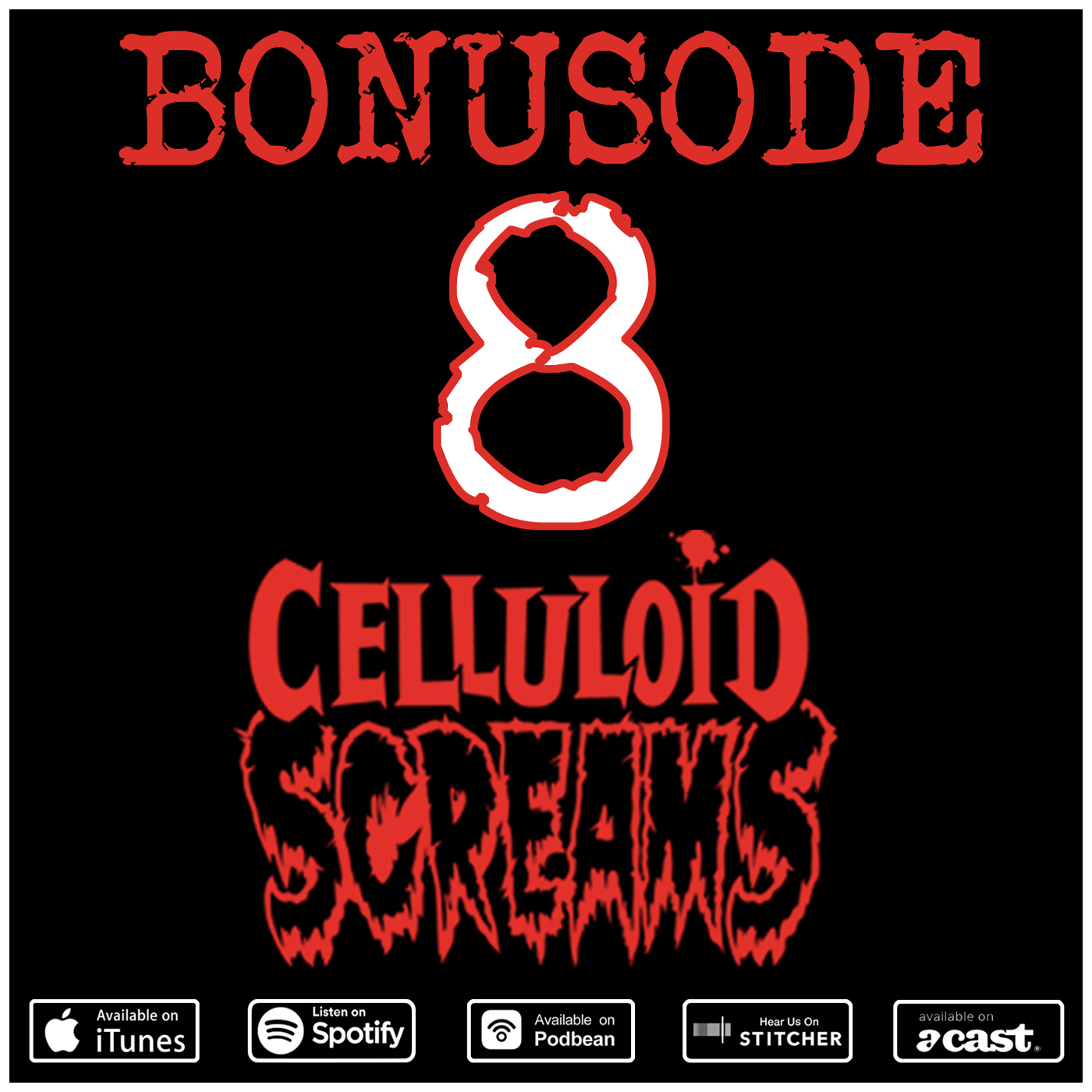 We said we would be doing more of these as and when we deem it necessary and so, true to our word, we come again! This time bearing BONUSODE 8! 
Celluloid Screams, Sheffield's horror festival, returns next month for its ELEVENTH instalment and recently announced the full line-up for this year's festival which runs from the 24th-27th October at the Showroom Cinema in Sheffield. 
The full schedule can be found below...
THURSDAY 24th OCTOBER
8.00pm –  OPENING GALA: TONE-DEAF + THE HOUSE (Short) + HEARTH (Short)
11.00pm – GIRL ON THE THIRD FLOOR + MALACOSTRACA (Short) + FIVE COURSE MEAL (Short)
FRIDAY 25th OCTOBER
2.00pm – HARPOON + SKICKELSEN (Short) + EJECT (Short)
4.25pm – ANTRUM: THE DEADLIEST FILM EVER MADE (UK PREMIERE)
7.15pm – EXTRA ORDINARY (Followed by Q&A) + THE CABINET (Short) + ASPARAGUS TIPS (Short)
9.45pm –  SECRET FILM 1 + PROPAGATION (Short) + BIG DATA L1ZY (Short)
12:10am – CORPORATE ANIMALS + THE ONLY THING I LOVE MORE THAN YOU IS RANCH DRESSING (Short) + RETCH (Short) + DIDDIE WA DIDDIE (Short)
SATURDAY 26th OCTOBER
12.00pm – OUTBACK (INTERNATIONAL PREMIERE) + COYOTE (Short) + REFORMED (Short)
2.15pm –  MAKING MONSTERS (UK PREMIERE) + THE BURDEN (Short) + IT'S NOT CUSTARD (Short)
4.35pm – THE NIGHTINGALE
8.00pm –  COME TO DADDY  + MAGGIE MAY (Short) + CREAKER (Short)
11.00pm –  BLISS + TOGETHER (Short) + WAKEY WAKEY (Short)
SUNDAY 27th OCTOBER
11.00am – WHY DON'T YOU JUST DIE! + PIG (Short) + THE VIDEO STORE COMMERCIAL (Short)
1.20pm – DANIEL ISN'T REAL + FEARS (Short) + MAKING FRIENDS (Short)
3.40pm – AFTER MIDNIGHT + HOW TO BE ALONE (Short) + OCCUPANT (Short)
6.45pm – SECRET FILM 2 + THE OTHER SIDE OF THE BOX (Short)
9.15pm – CLOSING GALA: LITTLE MONSTERS (94 mins)
One tiny suggestion? At the time of recording, there were extremely limited weekend passes available. If you want to be at one of the best festivals, not just in the UK but anywhere, then you better strike now. Get your ticket. Mitch will be attending for the duration. 
See you there! 
You can grab tickets and find out more info on the festival at their website. 
Please note that this podcast may contain strong language and even stronger Scottish accents. 
Remember, you can keep up to date with our news by following us via the usual social media outlets: 
Plus you can drop us an email to stronglanguageviolentscenes@gmail.com.
Strong Language & Violent Scenes theme by Mitch Bain
Edits & Artwork by Andy Stewart
Also, we love what we are doing and the response so far has been wonderful so if you enjoy what we do and want to help us continue to do it and help us to grow, then please consider sending us a few pounds. 
There is no lower or upper limit and every bit helps.