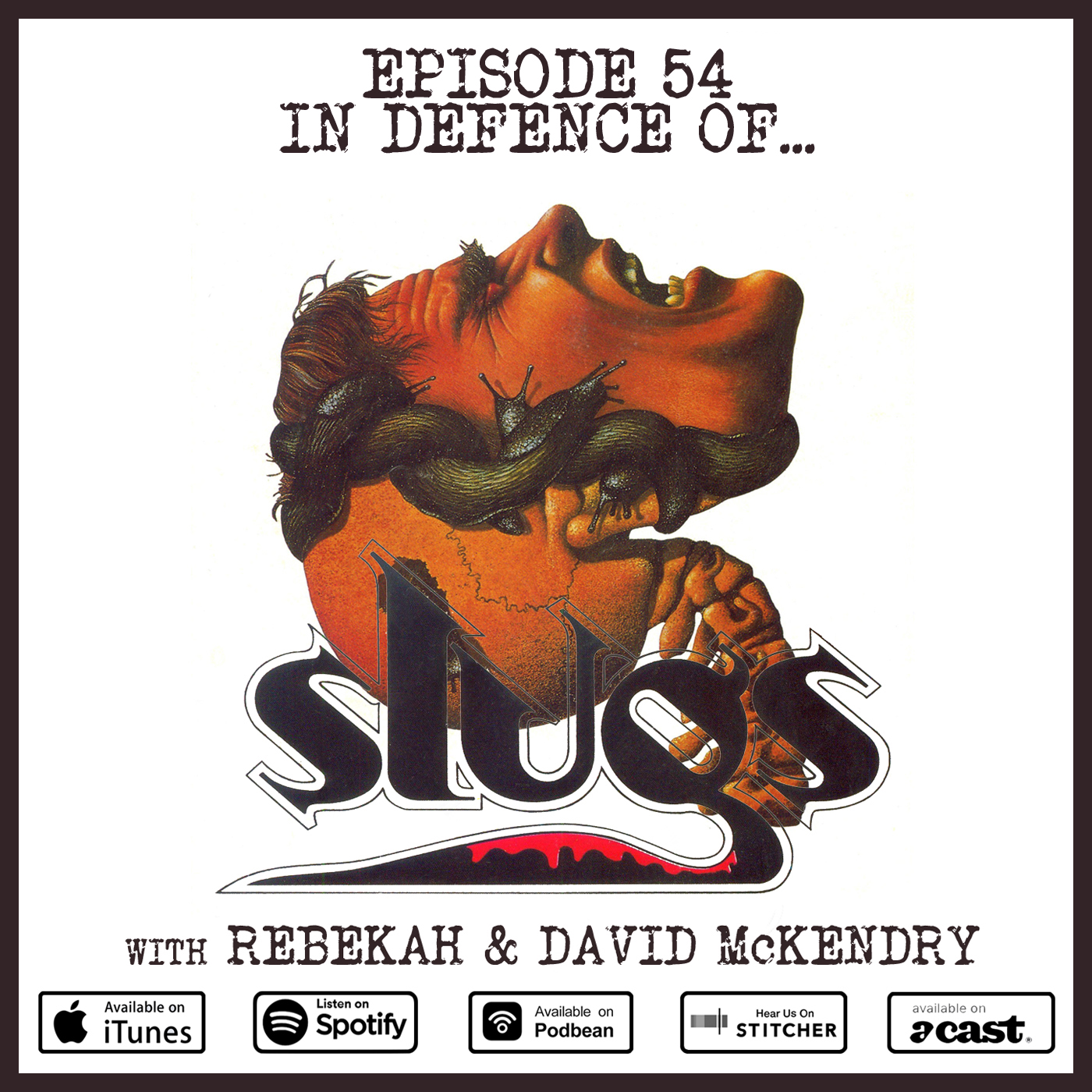 Here we go. It's finally here! Episode 54! It's huge for us, so we are absolutely delighted to do it in the company of such esteemed guests. SHE is one of the co-hosts of the Blumhouse podcast ShockWaves and the new Fangoria podcast Nightmare University while HE is one of the co-hosts of Dungeons & Dragons podcast Fear Initiative and they are BOTH co-directors of Christmas horror anthology, All The Creatures Were Stirring... it's Rebekah and David McKendry! 
Their chosen film? Slugs!
It's finally here! The podcast has finally come full circle with this, Slugs, the film that began it all! Yes! Over a year ago now, Andy subjected Mitch to the film after several bottles of wine and a podcast was born. Now, this horror power couple have selected it for defence. Does it need defending? Perhaps. Should you watch it? 100%. 
Directed by JP Simon, who also brought us the wonderfully batshit Pieces, Slugs delivers insanity, gore and goo by the bucketload and somehow manages to become a film the belies its budget to become a riotous, urgently paced experience. 
The Synopsis is as follows:
The townsfolk of a rural community are dying in strange and gruesome circumstances. Following the trail of horrifically mutilated cadavers, resident health inspector Mike Brady is on the case to piece together the mystery. He soon comes to a terrifying conclusion giant slugs are breeding in the sewers beneath the town, and they're making a meal of the locals!
Please note that this episode contains strong language, conversations of an adult nature and EXTREMELY Scottish accents. 
Remember, you can keep up to date with our news by following us via the usual social media outlets: 
Plus you can drop us an email to stronglanguageviolentscenes@gmail.com.
Strong Language & Violent Scenes theme by Mitch Bain
Edits & Artwork by Andy Stewart
Also, we love what we are doing and the response so far has been wonderful so if you enjoy what we do and want to help us continue to do it and help us to grow, then please consider sending us a few pounds via Paypal to stronglanguageviolentscenes@gmail.com!
There is no lower or upper limit and every bit helps.