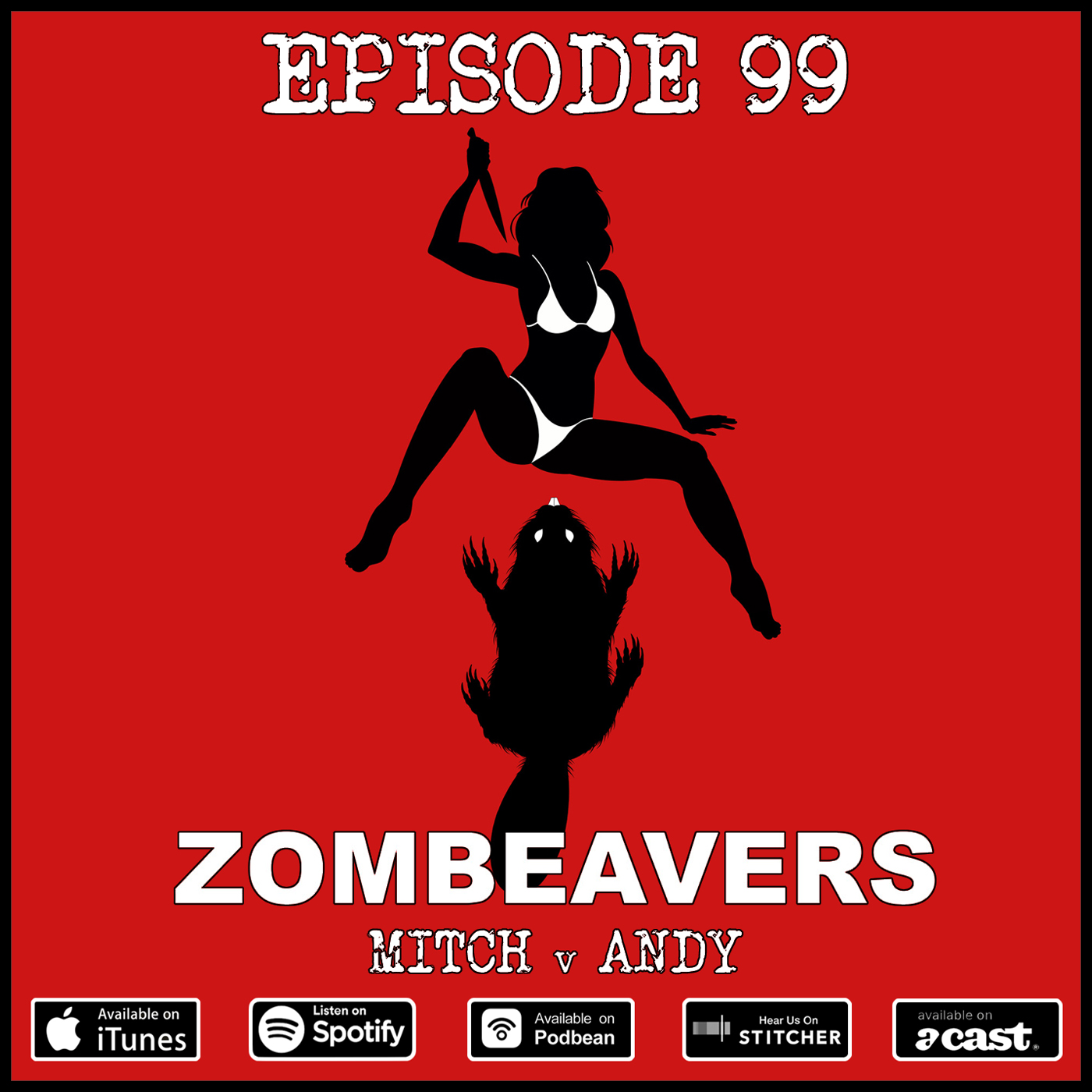 ATTENTION. THIS IS EPISODE 99.
That's right. If you are in the 100% club, listening to this will mean you have listened to 211 episodes of this show and us rambling a lot of pish for over two years! All this AND a pandemic related lockdown? You lucky people. 
Anyway, our guest this week is a horror writer, an occasional doer of musical things and one of the hosts of the podcast STRONG LANGUAGE & VIOLENT SCENES... (lol)
It's MITCH BAIN!
His chosen film? ZOMBEAVERS!
This nippy little slice of nonsense closed out the opening night of Frightfest 2014 and, in truth, it's a perfect film for that slot. It's a film that a boozed up Mitch responded to on the night and enjoyed on subsequent watches but what did Andy think? 
A gory love letter to schlocky horror which features Sushi Girl's Cortney Palm and appearances by Bill Burr and John Mayer (yes, that John Mayer), Zombeavers doesn't outstay its welcome. What are your thoughts? 
Zombeavers is currently rentable on Prime Video and there's a recently Music Magpie'd copy of Andy's out in the world.
The synopsis is as follows: 
A group of college kids staying at a riverside cabin are menaced by a swarm of deadly zombie beavers. A weekend of sex and debauchery soon turns gruesome as the beavers close in on the kids.
The kids are soon fighting for their lives in a desperate attempt to fend of the pack of relentless, bloodthirsty, and mutated beavers.

Please note that this episode contains strong language, conversations of an adult nature and EXTREMELY Scottish accents. 
Remember, you can keep up to date with our news by following us via the usual social media outlets: 
Plus you can drop us an email to stronglanguageviolentscenes@gmail.com.
Strong Language & Violent Scenes theme by Mitch Bain.
Edits & Artwork by Andy Stewart
Theme from Zombeavers used with love
Also, we love what we are doing and the response so far has been wonderful so if you enjoy what we do and want to help us continue to do it and help us to grow, then please consider sending us a few pounds via Paypal to stronglanguageviolentscenes@gmail.com!
There is no lower or upper limit and every bit helps.