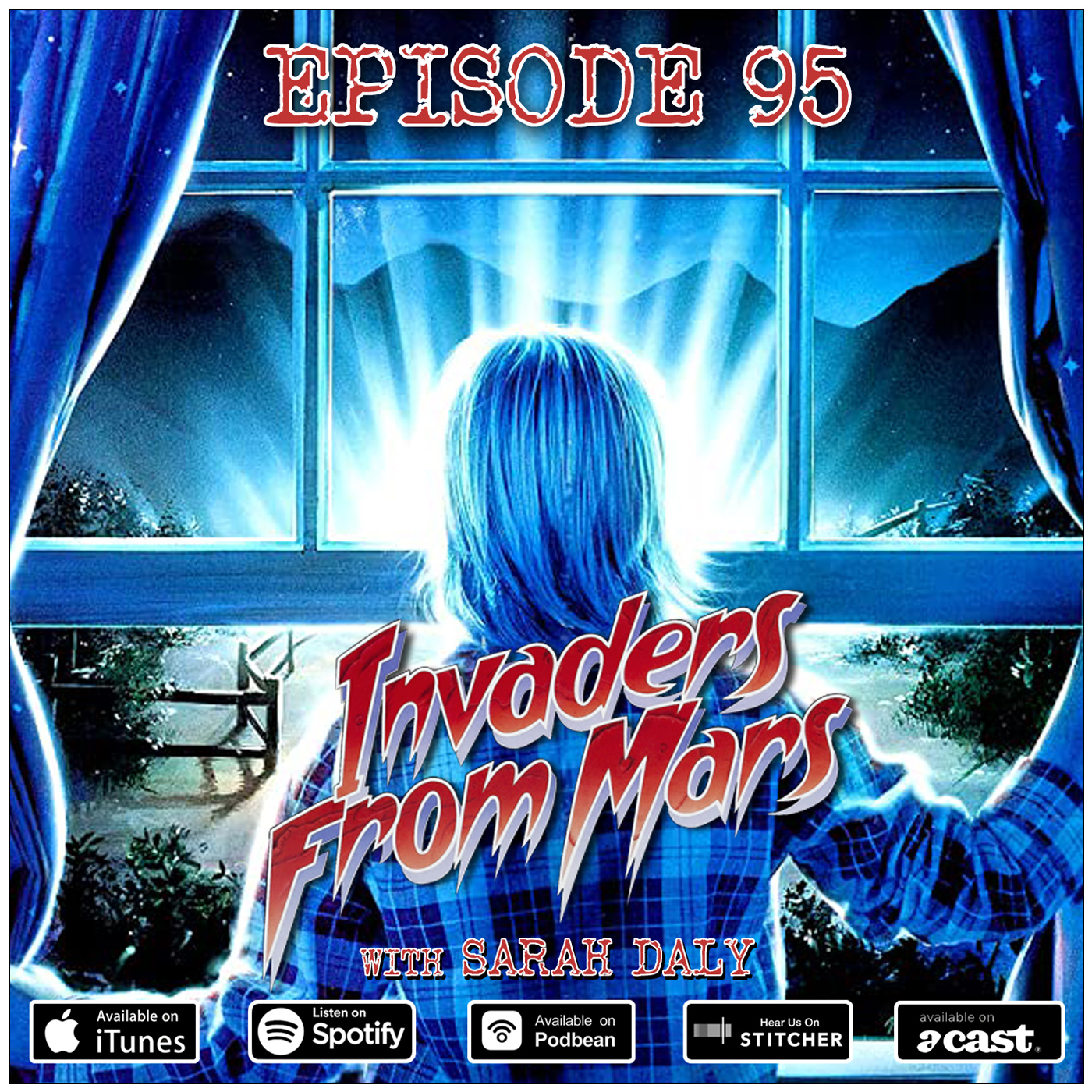 So I know this goes without saying but for this episode we continue the current trend of social distancing to protect ourselves, others and in some small way, combat the current Coronavirus pandemic. So it is that Mitch, Andy and our guest find themselves isolated in their respective houses, three-way Skyping. We have never tried this before...
So, to the guest then! She is one of the driving forces behind our pals at Hex Media. She is also a producer and writer of films such as LORD OF TEARS, THE UNKINDNESS OF RAVENS, THE BLACK GLOVES and THE DEVIL'S MACHINE...
It's Sarah Daly!
Her chosen film? Invaders From Mars!
A Tobe Hooper film? A Cannon Picture? Sign me up! YES! We are going back to 1988 for a film made as part of Hooper's multi-picture deal with Golan/Globus which also saw him direct Texas Chainsaw Massacre 2 and Lifeforce! This is one of the only films in Hooper's oeuvre that can reasonably be called a kid's film BUT is it? 
Invaders From Mars is a fun-little remake of the 1953 film of the same name which stars Karen Black (House of 1000 Corpses), Louise Fletcher (One Flew Over The Cuckoo's Nest) and James Karen (Return of The Living Dead).
The synopsis is as follows: 
Little David Gardner's starry-eyed dreams turn into an out-of-this-world nightmare when invaders from the red planet land in his backyard and unleash their hostilities on unsuspecting earthlings!
Paralyzed with fear as the aliens take over the minds of his mom, dad and even his schoolmates, David must somehow find a way to stop them: before they turn the whole human race into brain-dead zombies!
Huge thanks to Sarah for joining us! Follow her on Twitter HERE! You can also check out the Hex Media website HERE!

Please note that this episode contains strong language, conversations of an adult nature and EXTREMELY Scottish accents. 
Remember, you can keep up to date with our news by following us via the usual social media outlets: 
Plus you can drop us an email to stronglanguageviolentscenes@gmail.com.
Strong Language & Violent Scenes theme by Mitch Bain.
Edits & Artwork by Andy Stewart
Also, we love what we are doing and the response so far has been wonderful so if you enjoy what we do and want to help us continue to do it and help us to grow, then please consider sending us a few pounds via Paypal to stronglanguageviolentscenes@gmail.com!
There is no lower or upper limit and every bit helps.