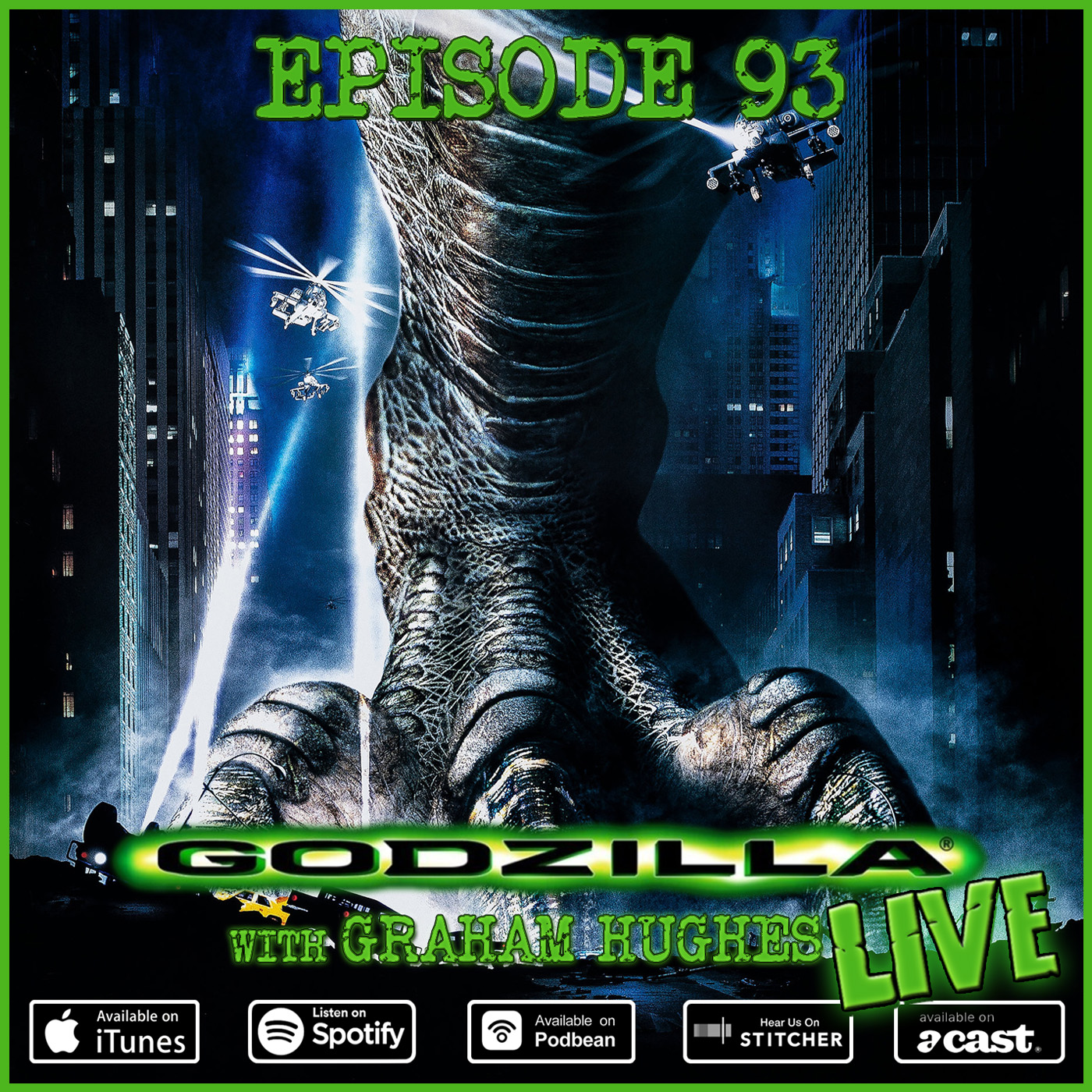 Please note: This episode of Strong Language & Violent Scenes Podcast was recorded live at The Admiral Bar in Glasgow on on March 5th 2020. Please forgive any audible plosives, sound issues or whatever. Also, there was a screen so several of the jokes might not land as well as they would have, had you been there. Check out our social media for some of the slides. That said, please enjoy Episode 93: Godzilla!
Episode 93 sees Andy, Mitch and returning guest, Death Of A Vlogger director Graham Hughes, invite YOU to join them for a discussion on all things Godzilla 1998! 
Additional thanks to the staff of The Admiral Glasgow, to Frightfest for their promotion and support, to Mike Hewitt and Louise Buckler at Arrow Video for the goodies and lastly, to the amazing audience, without whom, there wouldn't be a show! 
The synopsis is as follows: 
During a nuclear test, the French government inadvertently mutates a lizard nest; years later, a giant lizard makes its way to New York City. Dr. Niko Tatopoulos, an expert on the effects of radiation on animals, is sent by the U.S. government to study the beast. When the creature, dubbed "Godzilla" by news outlets, emerges, a massive battle with the military begins.
To make matters worse, Niko discovers that Godzilla has laid a nest of 200 eggs, which are ready to hatch.

Please note that this podcast contains strong language and EXTREMELY Scottish accents.

(I'm not kidding, here)
Remember, you can keep up to date with our news by following us via the usual social media outlets: 
Plus you can drop us an email to stronglanguageviolentscenes@gmail.com.
OR check out our WEBSITE! 
Strong Language & Violent Scenes theme by Mitch Bain.
Intro tape and edit by Andy Stewart.
Live A/V by Michael Park of Be Quiet Media.
Photography by Panda
Also, we love what we are doing and the response so far has been wonderful so if you enjoy what we do and want to help us continue to do it and help us to grow, then please consider sending us a few pounds via Paypal to stronglanguageviolentscenes@gmail.com!
There is no lower or upper limit and every bit helps.