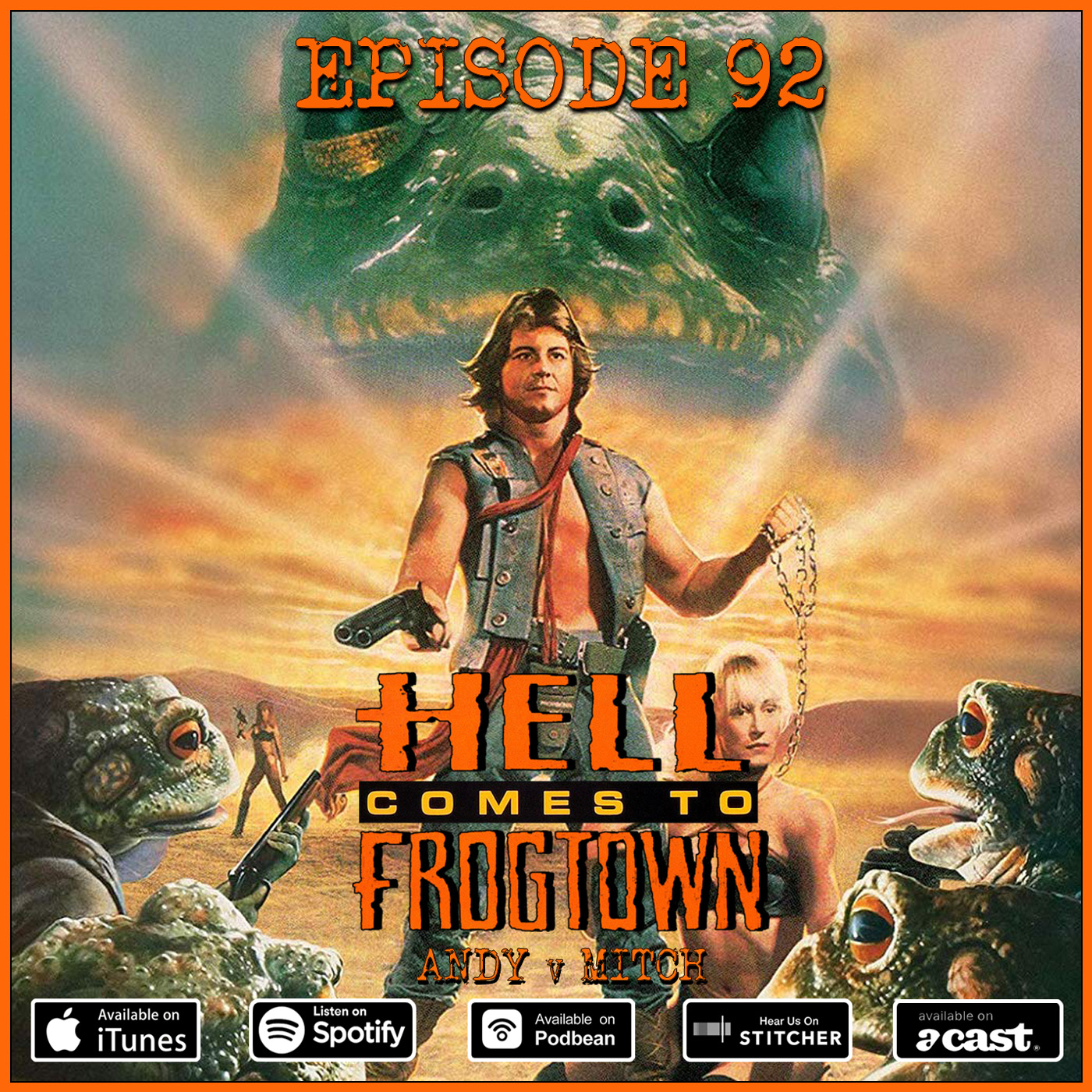 Look, look. I know. I know we only did one of these the other week when Mitch picked Eli Roth's Knock Knock but here we are again.
The reason is simple. We have a LIVE show this week that is taking up a lot of our brainpower, not to mention the fact that the apparent runtime of Roland Emmerich's Godzilla is approximately 2 YEARS. 
So with that in mind, we thought we would take it easy. So, it's Andy to choose...
His chosen film? Hell Comes To Frogtown!
1988. The world was a very different place and especially as it relates to sexual politics and thundering it's way from this tumultuous era comes this film. A film whose plotline would not even get a sniff in if were pitched in 2020. A film spearheaded by late wrestler "Rowdy" Roddy Piper. A film with functional camouflage underwear. A film with fez-wearing frogs.
It has it all...
The synopsis is as follows: 
With the 20th Century drawing to a close, nuclear war has wiped out civilization as we know it. The embattled human race s last remaining hope lies with one man and his loaded weapon.
Sam Hell may be an ex-con, but he also happens to be one of the last surviving fertile men on the planet. Now, under the custody of a group of feisty female fighters, Sam finds himself enlisted on a mission to impregnate a harem of beauties. Sounds cushy enough, but the ladies in question are prisoners of Frogtown, home to a gang of mutant (and ill-mannered) amphibians!

Please note that this episode contains strong language, conversations of an adult nature and EXTREMELY Scottish accents. 
Remember, you can keep up to date with our news by following us via the usual social media outlets: 
Plus you can drop us an email to stronglanguageviolentscenes@gmail.com.
Strong Language & Violent Scenes theme by Mitch Bain.
Edits & Artwork by Andy Stewart
Also, we love what we are doing and the response so far has been wonderful so if you enjoy what we do and want to help us continue to do it and help us to grow, then please consider sending us a few pounds via Paypal to stronglanguageviolentscenes@gmail.com!
There is no lower or upper limit and every bit helps.