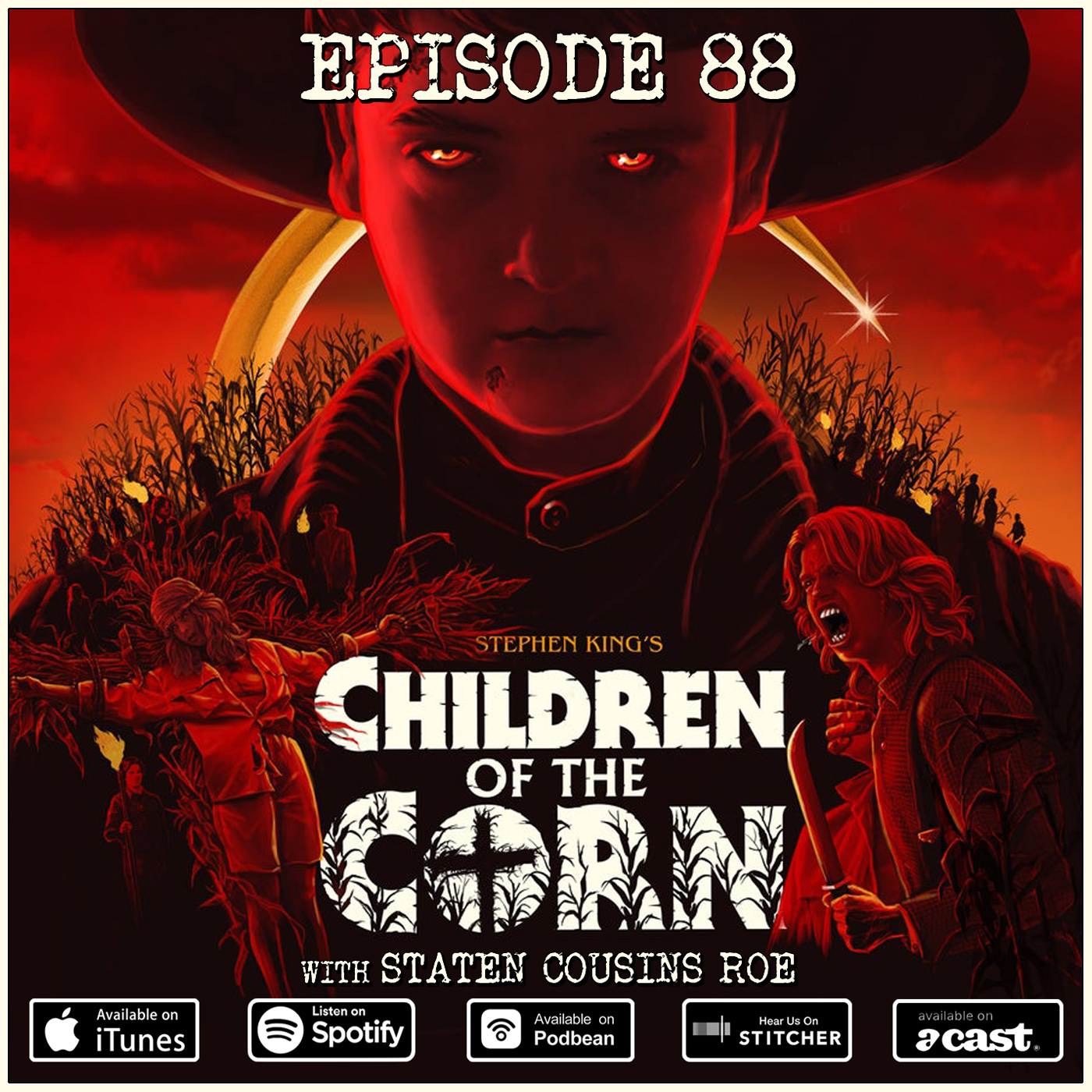 I'm really not sure that Stephen King has ever been "hotter" in the minds of horror fans, certainly where film and TV adaptations of his output are concerned. The last two years have seen multiple adaptations including IT, Gerald's Game, Doctor Sleep and more recently, HBO's The Outsider.
All pretty strong, to be fair. 
This week, we are going to look at something a little less beloved. A little less polished, perhaps?
And to do so, we are joined by the director of the excellent A Serial Killer's Guide To Life (now available via Arrow Video)...
It's Staten Cousins Roe!
His chosen film? Children of The Corn!
Stephen King adaptations are a tricky proposition. For every Gerald's Game, there's a Carrie remake. For every Misery, there's a Lawnmower Man. For every Shawshank Redemption, there's a Dreamcatcher. Yes, it's fair to say that results vary for book-to-screen adaptations of the Master of Horror's oeuvre. 
Back in 1984 saw the release of Children of the Corn. Based on the short story of the same name featured in the anthology book Night Shift, the film stars The Terminator's Linda Hamilton and Peter Horton alongside a monstrous pint-sized preacher, played by John Franklin, The 'Burbs' Courtney Gains as a knife-toting rule-enforcer and The Monster Squad's Robby Kiger. 
How will this one fare? Where does it place on your King-o-meter? 
The synopsis is as follows: 
As physician Burt Stanton and his girlfriend, Vicky, drive across the Midwest to his new job, their trip comes to a sudden halt when they encounter the body of a murdered boy in the road.
In trying to contact the authorities, Burt and Vicky wander into a small town populated only by children, followers of sinister young preacher Isaac Chroner.
Soon the couple is fleeing the youthful fanatics, who want to sacrifice them to their demonic deity.
Huge thanks to Staten for joining us! Follow him on Twitter HERE! 
Please note that this episode contains strong language, conversations of an adult nature and EXTREMELY Scottish accents. 
Remember, you can keep up to date with our news by following us via the usual social media outlets: 
Plus you can drop us an email to stronglanguageviolentscenes@gmail.com.
Strong Language & Violent Scenes theme by Mitch Bain.
Edits & Artwork by Andy Stewart
Also, we love what we are doing and the response so far has been wonderful so if you enjoy what we do and want to help us continue to do it and help us to grow, then please consider sending us a few pounds via Paypal to stronglanguageviolentscenes@gmail.com!
There is no lower or upper limit and every bit helps.