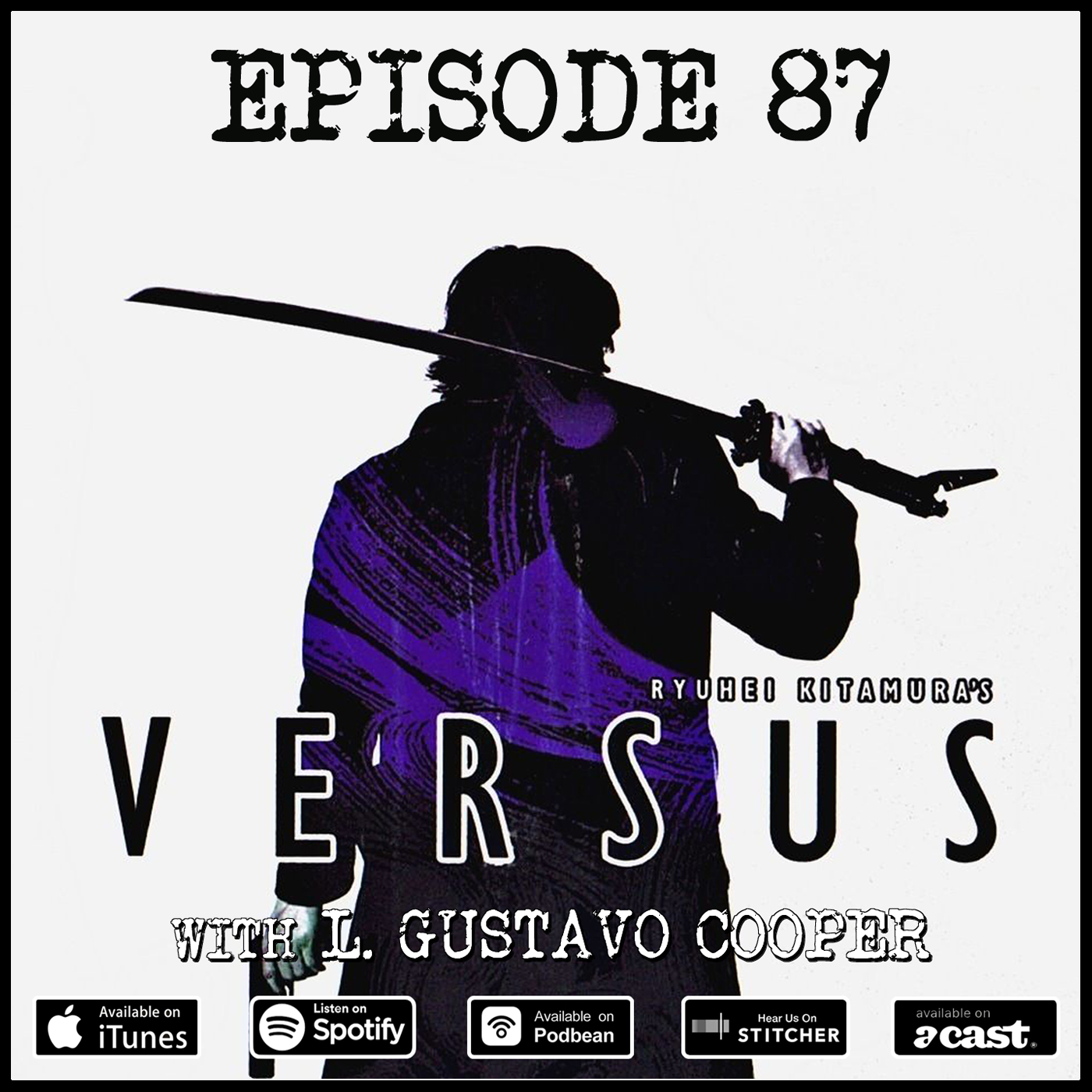 Oh man. It had to happen eventually. There had to come a time where Mitch and the guest would lost the thread and it would fall to Andy to endeavour to keep the show on the rails. As you can imagine, that doesn't go well! Find out in Episode 87 where your pals/hosts are joined by the director of the excellent short The Home (and many more)... It's L. Gustavo Cooper!
His chosen film? Versus!
Strap yourselves in, folks. This one is WILD! Coming from the nu-metal days of 2000 and from the mind of Ryuhei Kitamura who brought us Midnight Meat Train, No One Lives and Downrange, comes VERSUS, an absolute batshit bonkers mash-up of Samurai, Yakuza and zombie films with a supernatural edge that makes for a tricky but fun chat! 
Check it out and let us know YOUR thoughts via the usual channels! 
The synopsis is as follows: 
There are 666 portals to the other side, and somewhere in Japan lies the home of the 444th.
It is here that Prisoner KSC2-303 escapes from his fellow inmates to rendezvous with a group of men who will lead him to safety.
Huge thanks to Gustavo for joining us! Follow him on Instagram HERE! 
Please note that this episode contains strong language, conversations of an adult nature and EXTREMELY Scottish accents. 
Remember, you can keep up to date with our news by following us via the usual social media outlets: 
Plus you can drop us an email to stronglanguageviolentscenes@gmail.com.
Strong Language & Violent Scenes theme by Mitch Bain.
Edits & Artwork by Andy Stewart
You should check out our episode partner Scotland: A History Podcast. Available wherever the best podcasts are found. 
Also, we love what we are doing and the response so far has been wonderful so if you enjoy what we do and want to help us continue to do it and help us to grow, then please consider sending us a few pounds via Paypal to stronglanguageviolentscenes@gmail.com!
There is no lower or upper limit and every bit helps.