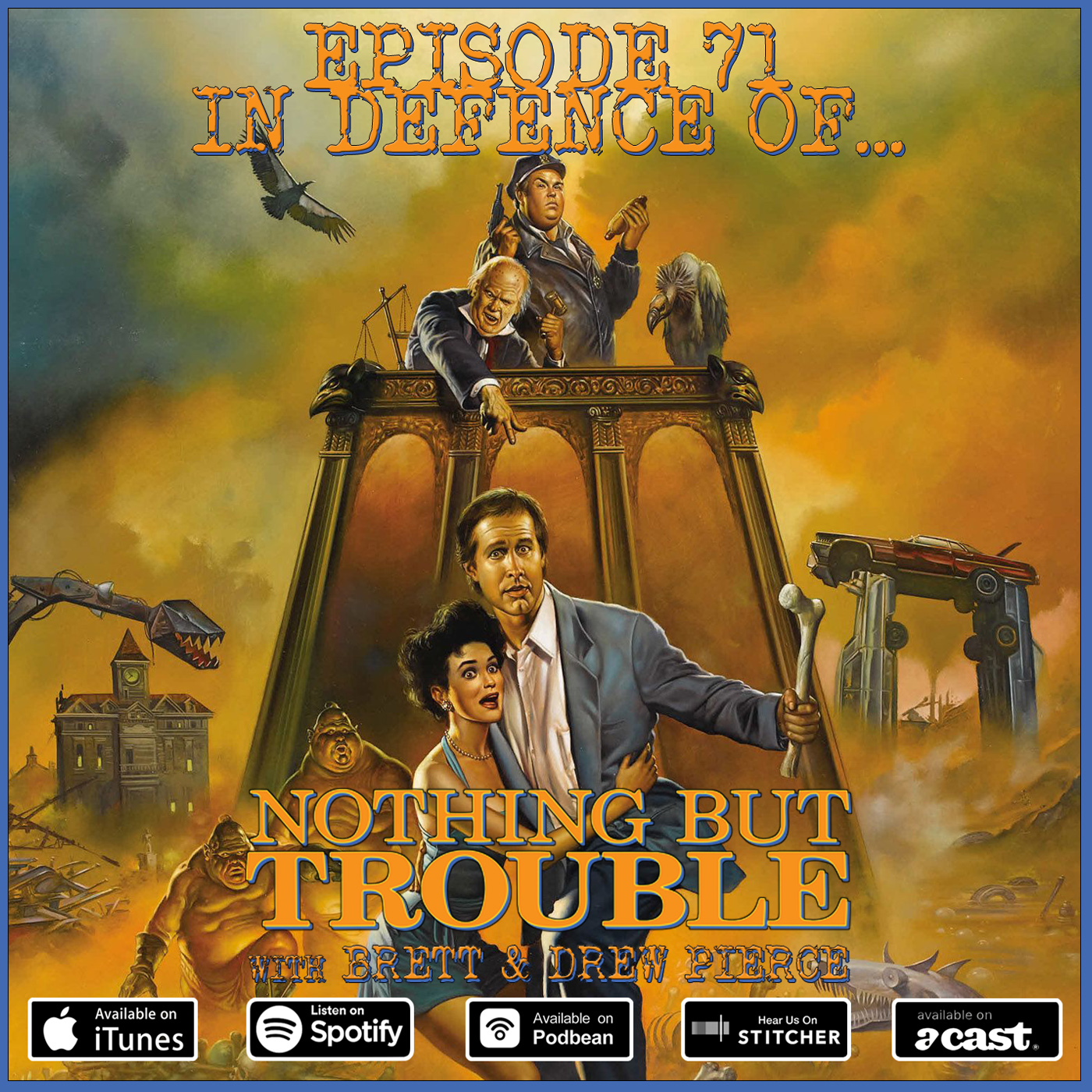 Welcome one and all to this, EPISODE 71! 
This week, Andy and Mitch are delighted to be joined by the writing/directing due behind zombie comedy Deadheads and Frightfest 2019 selection The Wretched. It's sibling horror filmmakers... Drew & Brett Pierce!
Their chosen film? Nothing But Trouble!
Written, Directed, produced by and starring Dan Aykroyd in multiple roles, 1991's Nothing But Trouble (aka Valkenvania) marks Aykroyd's directorial debut and, sadly due to the reception of this effort, his last to date. Starring Chevy Chase, Demi Moore and the late, great John Candy, NBT is an anomaly. A singular vision that shouldn't exist, yet does. 
Is the world better for it? Let us know!
The Synopsis is as follows:
While attempting to seduce gorgeous lawyer Diane Lightson, wealthy gadabout Chris Thorne agrees to drive her to Atlantic City, N.J. But, when some reckless driving draws the attention of a deeply critical cop, they and the flamboyant "Brazillionaires" who tagged along end up in the court of a grotesque and vengeful judge, who has a special vendetta against the wealthy and erudite.
Please note that this episode contains strong language, conversations of an adult nature and some EXTREMELY Scottish accents. 
Remember, you can keep up to date with our news by following us via the usual social media outlets: 
Plus you can drop us an email to stronglanguageviolentscenes@gmail.com.
Strong Language & Violent Scenes theme by Mitch Bain
Edits & Artwork by Andy Stewart
Mister Bonestripper by Damn Yankees used with love. 
Also, we love what we are doing and the response so far has been wonderful so if you enjoy what we do and want to help us continue to do it and help us to grow, then please consider sending us a few pounds via Paypal to stronglanguageviolentscenes@gmail.com!
There is no lower or upper limit and every bit helps.