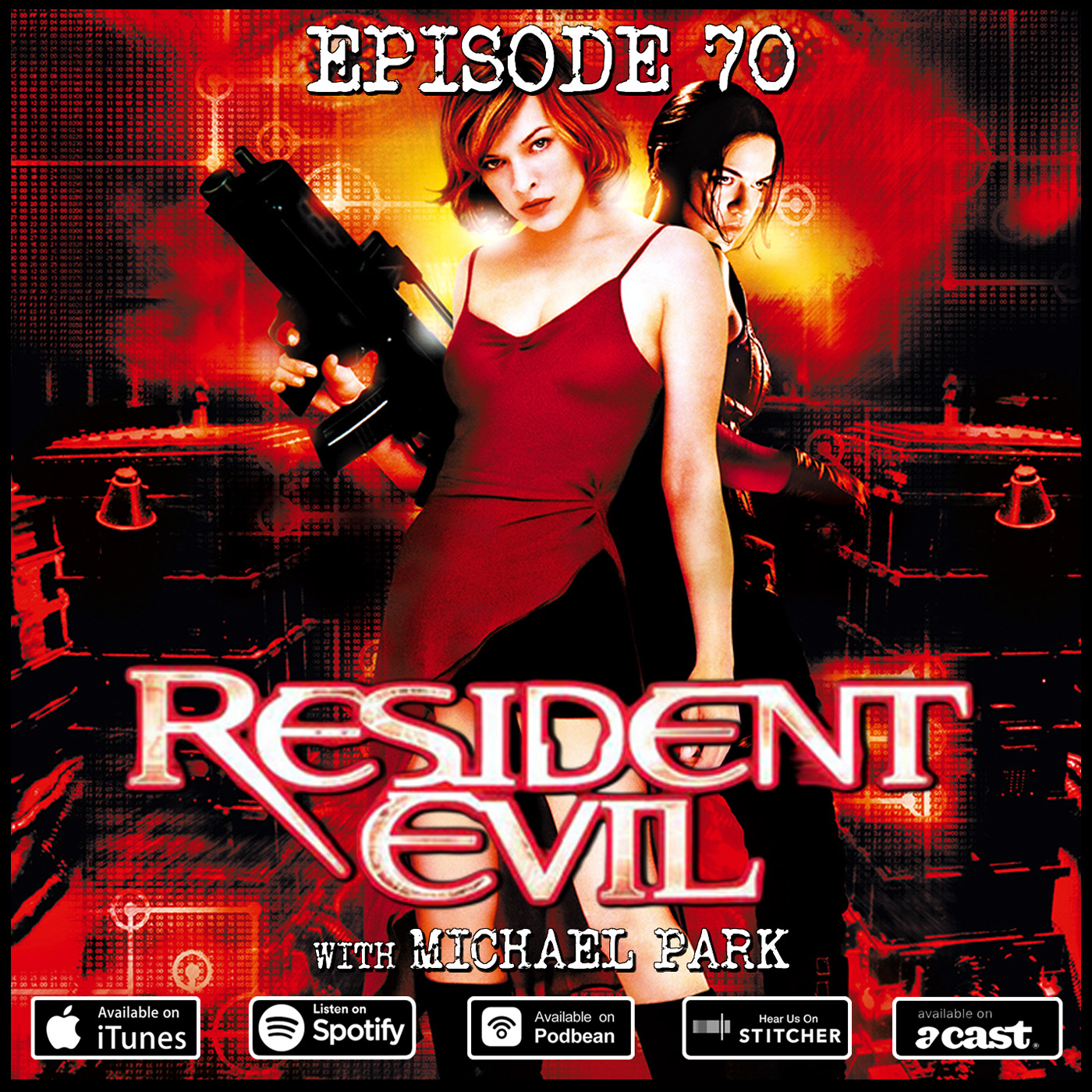 Hello pals and welcome to EPISODE 70! It's a sad day, folks. This week's film has broken Mitch and as such, The Sunshine Kid's light is dimmed as he slips into actual fury. 
So, to head off accusations of nepotism, it's important to say that this week's guest has a connection to the show. He is the host of the excellent Scotland: A Scottish History Podcast, a podcast that Mitch scores and that Andy has provided voice work to several times. He is also the live AV guy for our live shows. 
It's the soft, silky voice wrapped in meat that is... Michael Park!
His chosen film? Resident Evil!
Directed by Mortal Kombat and Event Horizon director Paul W.S. Anderson and based on the bestselling Capcom game series, Resident Evil blasted onto our screens in 2002 with an industrial score by Marilyn Manson and Marco Beltrami, a nu-metal soundtrack featuring Slipknot and Coal Chamber and featuring very little of the games, this film wasn't the film anyone prayed it would be and the start of a 6-part franchise that no-one asked for. 
Good luck, Michael. 
The Synopsis is as follows:
Based on the popular video game, Milla Jovovich and Michelle Rodriguez star as the leaders of a commando team who must break into "the hive," a vast underground genetics laboratory operated by the powerful Umbrella Corporation.
There, a deadly virus has been unleashed, killing the lab's personnel and resurrecting them as the evil Un-dead. The team has just three hours to shut down the lab's supercomputer and close the facility before the virus threatens to overrun the Earth.
Please note that this episode contains strong language, conversations of an adult nature and some EXTREMELY Scottish accents. 
Remember, you can keep up to date with our news by following us via the usual social media outlets: 
Plus you can drop us an email to stronglanguageviolentscenes@gmail.com.
Strong Language & Violent Scenes theme by Mitch Bain
Edits & Artwork by Andy Stewart
Also, we love what we are doing and the response so far has been wonderful so if you enjoy what we do and want to help us continue to do it and help us to grow, then please consider sending us a few pounds via Paypal to stronglanguageviolentscenes@gmail.com!
There is no lower or upper limit and every bit helps.