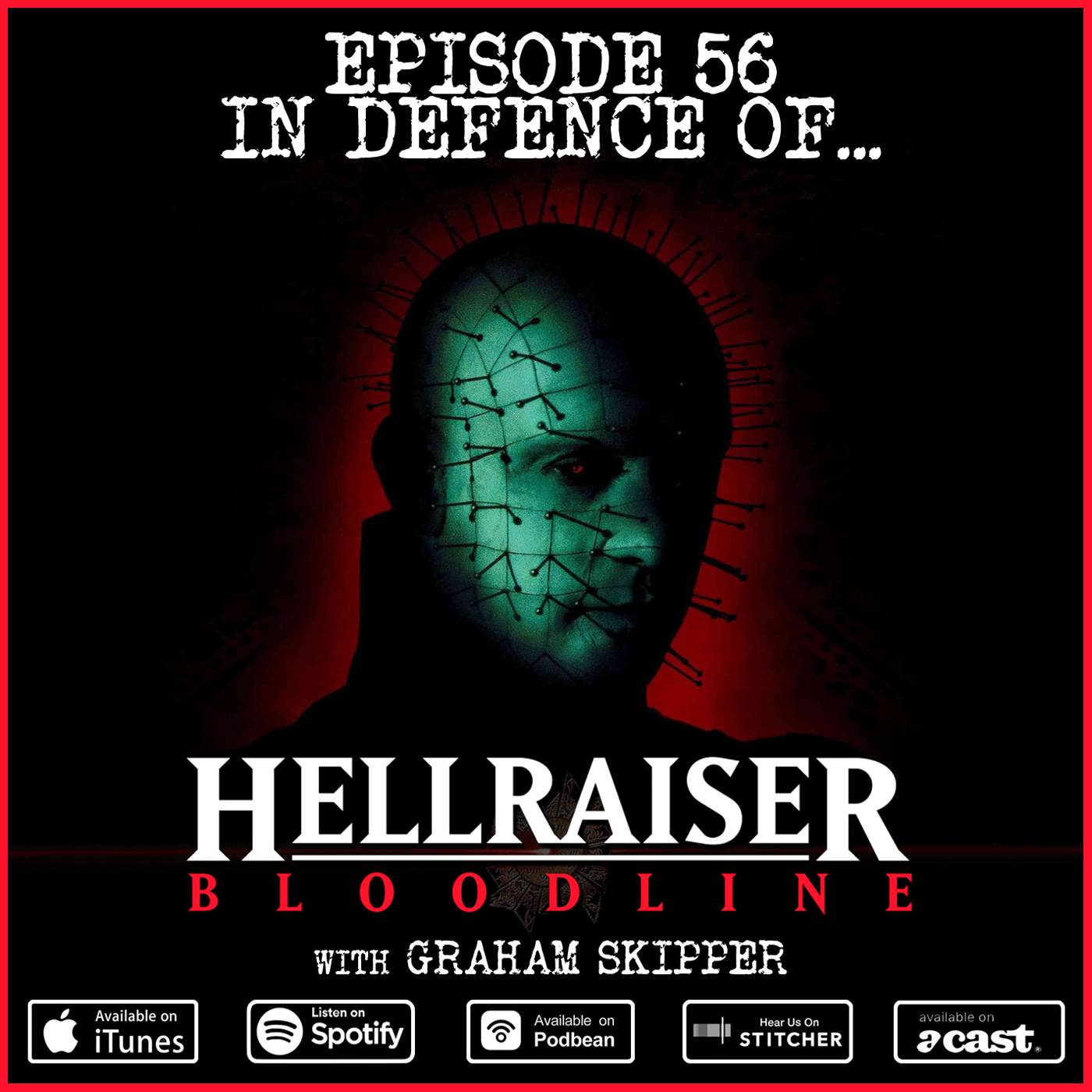 He's back! Yes, welcome to EPISODE 56 in which Andy and Mitch are delighted to be joined once again by the director of Shudder Exclusive Sequence Break, not to mention star of such films as Bliss, The Mind's Eye, Dementia Part II and Beyond the Gates and NOW the brains behind horror pop-up bar Rated R Speakeasy... it's Graham Skipper!
His chosen film? Well it couldn't be further removed from his last appearance when he talked at length about Shyamalan's The Village... This time? Hellraiser: Bloodline!
It's the fourth in the franchise and the difficult "Pinhead in Space" installment. Hellraiser: Bloodline is a time-hopping trip through the generations and, in honesty, possibly the last truly good entry in the franchise. It's also the beginning and end of the franchise, the last released in cinemas and the last with involvement from Clive Barker. 
It's also the first film we have done where the director had his name removed, so it's an Alan Smithee joint! 
Should you check it out? Absolutely! 
The Synopsis is as follows:
Three generations of the same family deal with the consequences of unleashing the forces of hell. In 18th-century France, Paul L'Merchant works as a toymaker until he's coerced into creating a box that serves as a portal between hell and Earth. The box summons demonic Angelique and Pinhead, who -- 200 years later -- hunt down John Merchant. Then, centuries later, Phillip Merchant prepares for a final confrontation.
Please note that this episode contains strong language, conversations of an adult nature and some EXTREMELY Scottish accents. 
Remember, you can keep up to date with our news by following us via the usual social media outlets: 
Plus you can drop us an email to stronglanguageviolentscenes@gmail.com.
Strong Language & Violent Scenes theme by Mitch Bain
Edits & Artwork by Andy Stewart
Excerpts from Hellraiser score used with love
Also, we love what we are doing and the response so far has been wonderful so if you enjoy what we do and want to help us continue to do it and help us to grow, then please consider sending us a few pounds via Paypal to stronglanguageviolentscenes@gmail.com!
There is no lower or upper limit and every bit helps.